In 2021, Colombia ranked 87th out of 180 countries in Transparency International's Corruption Perceptions Index, with a score of 39 on a 100-point scale (100 being the highest). Rooting out corruption has long been part of the agenda of politicians in Colombia, but it was only after the 2016 peace agreement with the Revolutionary Armed Forces of Colombia (known as FARC) that corruption came to be considered the No. 1 problem facing the country—above armed conflict, unemployment, or health issues.
As conflict and crime decreased after 2016, Colombians could more easily identify one of the main causes of inequality, poverty, and armed violence itself: namely, corruption.
Given its desire to join the Organisation for Economic Co-operation and Development, the Government of Colombia has recently adopted new regulations and taken measures to advance the fight against corruption, promote citizen participation, and increase transparency. But there is a long way to go to achieve effective implementation and ownership by public servants and citizens, both at the national and subnational levels. Accordingly, in 2020 the U.S. Agency for International Development (USAID) launched the Partners for Transparency (PfT) Activity, dedicated to promoting transparency, fighting corruption, and supporting open government.
The PfT team works across the transparency ecosystem, partnering with national and subnational authorities in fifteen municipalities and three cities, in addition to national control authorities, journalists, academia, civil society, and citizens. PfT's implementing partners are Transparencia por Colombia (a chapter of Transparency International); Foro Nacional por Colombia, a nongovernmental group promoting citizen participation; the School of Government of the University of the Andes; and La Silla Vacía, an investigative journalism site.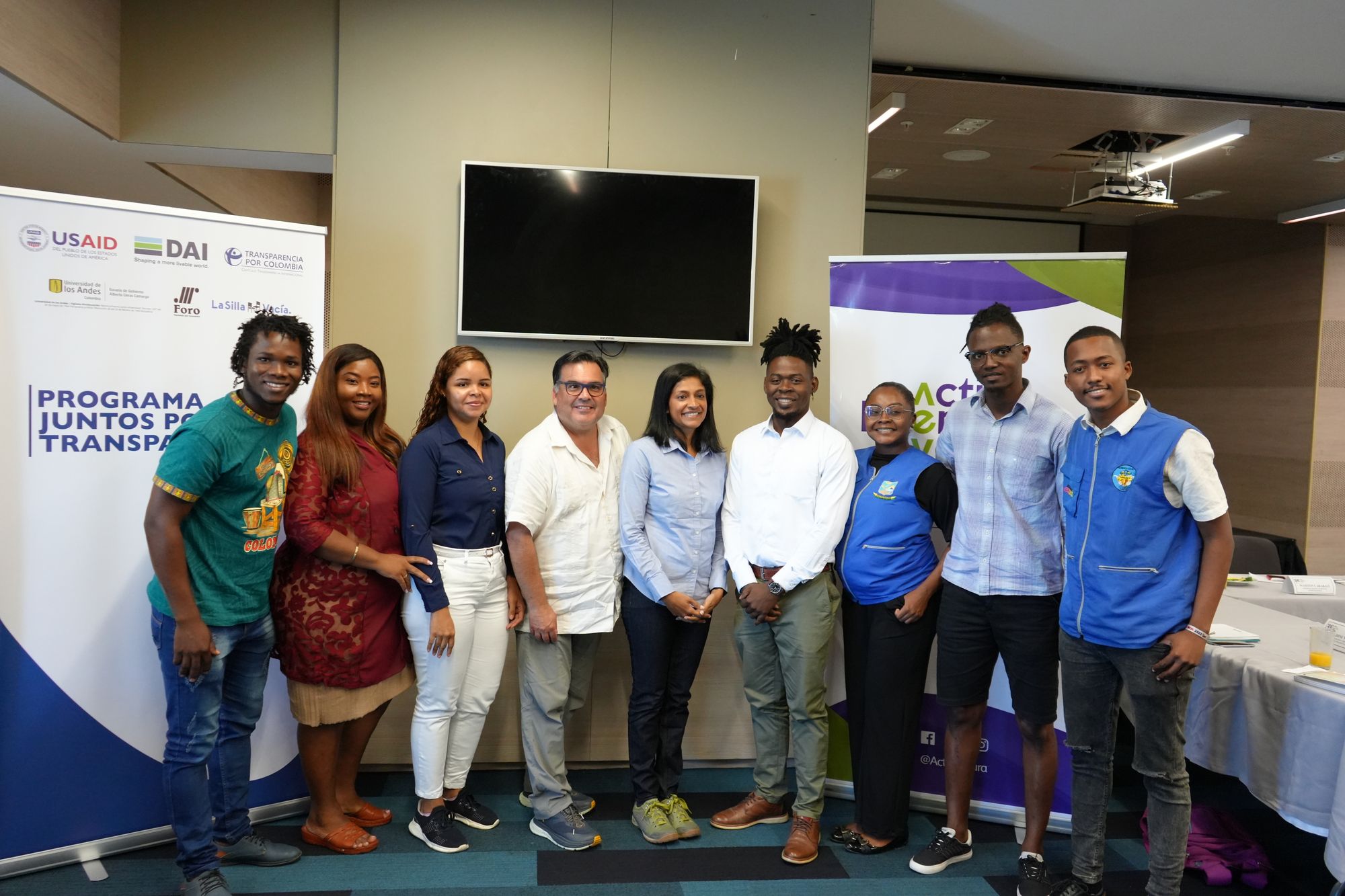 Countering Corruption
Building on the expertise and experience of these national partners, PfT provides technical assistance to public servants on anti-corruption planning, open government, and citizen participation. It trains media, civil society, and citizens in social oversight, investigative journalism, and access to information, among other topics. In the regions where it works, PfT implements three core, citizen-focused initiatives:
Citizen Agendas for Transparency and Anti-Corruption
The Citizen School of Transparency and Participation
The Citizen Anti-Corruption Movement
Their goal is to improve citizen dialogue with the local public entities responsible for preventing, sanctioning, and mitigating acts of corruption, and to advocate for public action based on citizen oversight. First, groups of citizens who work for the territory or within social sectors are encouraged to identify corruption and issues of transparency and integrity in the public service. Then the groups develop proposals, recommendations, and actions to address these problems. The proposals are collected in documents constituted as a "Citizen Agenda for Transparency and Anti-Corruption."
Each of the 18 municipalities has its own Citizen Agenda prioritizing specific local issues. For example, in some regions the Agenda focuses on verifying that the commitments of the 2016 Peace Agreement are fulfilled, while other regions are prioritizing the inclusion of women and young people. In Cartagena, the group monitors public procurement. In Buenaventura, the country's main seaport, the focus is on major infrastructure projects. In Cali, health, education, and job opportunities are the priorities.
The groups also seek to influence authorities and decision makers to improve administrative management processes, anti-corruption policies, and other programs, and they engage citizens in the fight against corruption through educational, cultural, and awareness activities.
A School for Citizens
To better inform and train citizens in the design of a Citizen Agenda, our partners developed the Citizen School of Transparency and Participation. In its virtual version, approximately 700 people have participated so far, while more than 200 have graduated in-person. As a space for building and sharing knowledge in public administration, participation, anti-corruption, and advocacy, the school should help develop the next leaders of the anti-corruption movement.
PfT's third initiative is the Citizen Anti-Corruption Movement, comprising 17 social organizations from different regions of the country that mobilize citizens to fight corruption by facilitating corruption complaints, improving citizen oversight, supporting advocacy, and enabling social sanctions against corruption.
In addition to scrutinizing the anti-corruption plans of the 2022 presidential candidates, the movement has developed cultural and educational actions in each municipality to ensure citizens understand the mechanisms of corruption and can identify actions to stop them. For example, in Southern Córdoba, the movement uses art to promote social oversight and citizen participation. In Buenaventura, the movement will expose the damage caused by corruption by highlighting visible consequences such as unfinished public infrastructure.
Fighting Corruption is Everyone's Responsibility
In Colombia, corruption has traditionally been conceived as rooted largely in the public sector, and prospective solutions have been focused on strengthening regulations and sanctions. But in fact, corruption is systemic, so it is necessary to understand the behaviors that perpetuate unethical practices. Therefore, PfT developed a cultural change strategy that combines sciences such as psychology, anthropology, cognitive neuroscience, and economics to understand the beliefs, values, social norms, and behaviors that influence ethical decision making.
That includes decision making in the private sector, whose role is critical. PfT provides companies with training, guidelines, and measurements that allow enterprises to implement good practices of ethics and integrity in their organizations. PfT's work with the private sector seeks to integrate transparency and business ethics as pillars of all business models in Colombia.
Investigative journalists are also important allies. Through the creation of the Collaboration Network of Journalists, PfT is building the capacity of journalists in prioritized regions. The training strengthens investigative skills using techniques that combine traditional journalism, digital tools, and the use of local governments' open data, so that stories of progress in transparency are widely disseminated.
Challenges Ahead
PfT's work benefits from a degree of continuity in its government partners, which could be in question since Colombia has had a new national government since August and new subnational governments take over in January 2024. However, the arrival of a new national government also presents opportunities. Open government and anti-corruption actions are included in the government plan and in the priority reports of the new congress. Topics such as the protection of whistleblowers and the regulation of lobbying, which had been on the pending list, now appear as priorities.
Similarly, PfT is focused on strengthening control and investigation entities to improve the processes by which corruption is prevented, identified, investigated, and punished. PfT has made progress in coordinating with key entities such as the Attorney General's Office, the General Comptroller's Office, the Inspector General Office, and the Office of the Auditor General of Colombia. With these entities, PfT plans to strengthen control, supervision, surveillance, and investigation functions to mitigate the risks of corruption generated in sectors with significant social and economic impact in the country.
PfT has ambitious goals for the remainder of its run. In addition to continuing the core initiatives outlined above and the coordinated work with government and control entities, PfT will contribute to the new National Development Plan and strengthen the national anti-corruption institutional design. And PfT will increasingly reach out to the private sector so that it assumes a more responsible role in preventing corruption.