Among the supply chain vulnerabilities laid bare by the COVID-19 pandemic is the reliance that a company's supply and distribution network has on a healthy workforce. The knock-on impact of worker ill-health affects all the companies in a supply chain, up to the multinational buyer. Without healthy workers, materials cannot be sourced, manufactured, or delivered.
Worker health has been a challenge for decades. Small and medium suppliers in emerging economies often lack the capacity, infrastructure, or regulatory framework to uphold worker health and safety. DAI's work designing and implementing supplier workplace health and safety programs across the globe affords us insights into the key success factors multinationals should consider when developing worker health programs.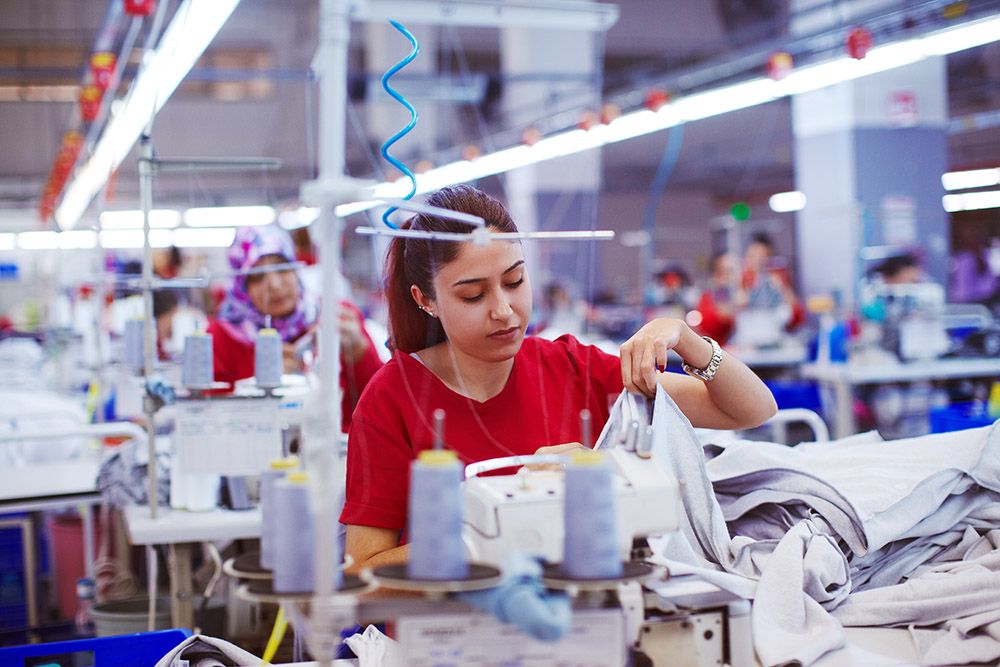 The Most Effective Worker Health Programs Do Not Stop at the Factory Gates
Managing infectious diseases such as COVID-19 and promoting worker wellbeing more broadly requires an approach that addresses the interconnectedness of society, from the workplace to the wider community.
VF Corporation, one of the world's largest apparel, footwear, and accessories companies, takes a holistic approach to worker health challenges through its Worker and Community Development Program (WCD), which establishes safe and stable working environments in its supplier factories while improving the lives of local communities.
DAI supports VF Corporation in its supplier factories in Indonesia and Vietnam. In Java, Indonesia, DAI works with 10 VF supplier factories to improve the provision of maternal and newborn health (MNH), family planning, and sexual and gender-based violence services to the majority-female workforce. The DAI-implemented program strengthens MNH services in factory clinics, increases staff and worker MNH knowledge, and—crucially—improves referral pathways so that workers can receive more advanced treatment beyond the factory clinic. The program will reach 18,500 employees by the end of 2022 and has led to a 450 percent increase in clinic attendance.
In both countries, DAI has developed standard operating procedures (SOPs) and health promotion materials, and adapted procurement plans for each factory to meet their needs for personal protective equipment, self-test kits, and vaccinations. These health programs have played a role to enable companies such as VF Corporation to operate under changing pandemic restrictions.
"Training like this is rarely held in the factory. Usually, most people in the factory are just working. So, this [training] is good to add insight as we are getting new knowledge. In fact, there are things that I did not know before"

Eli Susilawati, five months pregnant worker, PT Uwu Jump
"In the past, most workers were reluctant to get vaccinated, but as we regularly play the audio clips and display the posters [developed by the MNH Plus Program], they showed a more positive attitude towards getting vaccinated."

Bondan Pratomo, a Health, Security and Environment Officer, PT Kanindo Makmur Jaya 2
Expanding the Definition of Worker Health
In recent years, the definition of worker health has expanded in no small part due to the development of environmental, social, and governance (ESG) regulations. Multinational buyers now bear increased responsibility for their suppliers and workforce. Several indicators in the "S" pillar of reporting frameworks relate to supplier due diligence and worker health and safety. The European Commission recently adopted a Corporate Sustainability Due Diligence Directive, requiring companies in the EU market to identify, end, prevent, and mitigate adverse human rights and environmental impacts in their operations and those of their subsidiaries and global supply chains. The Directive emerged from the EU's Sustainable Corporate Governance initiative. DAI provided the EU with an analysis of the initiative's potential impact on emerging economies.
As this sphere of responsibility increases among corporations, so does the aperture for their community health and wellbeing initiatives, which must recognize that a multitude of factors, inside and outside the workplace, play a role in workers' wellbeing. A workforce benefitting from holistic health and wellbeing programs is likely to have higher satisfaction, lower absenteeism, and increased staff retention.
An example of a holistic wellbeing program is the Walmart Foundation's Global Women's Economic Empowerment Initiative, implemented in factories in India, Bangladesh, China, and Central America. Trainers taught 60,000 women life skills related to communication, hygiene, reproductive health, occupational health and safety, identifying personal strengths, and gender sensitivity. Up to 8,000 women also received leadership training to develop skills for personal and career development. The foundation has plans to scale the initiative across 150 factories.
Designing Programs to the Specific Operating Environment Will Promote Ownership and Sustainability
Worker health and wellbeing programs should be tailored to each country's local context. Taking each country's circumstances into account can promote buy-in from the supplier factory management, workforce, and corporate buyer representatives in the country, as it did for VF Corporation in Indonesia. The Indonesia program focused on MNH, which is not only a health priority, given the majority female workforce, but also a Presidential Priority. Consequently, the factory managers and public health stakeholders were already committed to promoting MNH before the program's launch.
Convincing supplier factory management to agree to a worker health program can be challenging, especially when activities initially appear to detract from production. Conveying a program's long-term benefit is essential to facilitating and preserving its implementation. Program teams must demonstrate the value of strong workforce standards and programs when factories are selling to buyers and consider implementing preferential supplier systems in line with these expectations. Tracking key performance indicators including worker absenteeism and turnover, productivity, and quality of materials produced, are examples of demonstrating this quantitatively.
At a factory level, any SOPs should be in line with national guidelines, with clear pathways to update them as the regulatory environment changes. For example, in Vietnam, DAI oversaw a COVID-19 response program that directly supported factories across process development, procurement, and training, and facilitated the safe reopening of seven partner factories of VF Corporation in compliance with Vietnam's government guidelines.
To promote ownership and expand program reach, a training-of-trainers model can be adopted, with factory clinic staff and foremen rolling out training on their factory floors. These collaborative approaches, such as peer-to-peer education, are designed so that workers can continue sharing the information even after the program ends.
COVID-19 Showed the Way Forward
COVID-19 disruptions highlighted the importance of a fit and healthy workforce, the risks that absenteeism poses to productivity, and the importance of preparing health programs that mitigate the impact of future shocks. In the future, total worker health—promoting the health and wellbeing of workers inside and outside the factory—will be an increasingly important strategic imperative for multinationals committed to sustainable procurement and truly robust supply chains.
When future shocks occur, as they inevitably will, the firms likely to prove most resilient are those with experience in designing and implementing holistic health programs. These firms will be well placed to adapt existing programs and rapidly put new ones in place.